Conrad Simpson was simply waiting for his order. It was 8:00 am in a random Las Vegas Starbucks when it happened again. A man, his own order in hand, was headed out the door when he spotted Simpson and couldn't help himself. He just had to say it:
"Let's Get It Poppin!"
It might be a little early in Sin City to technically "get it poppin'" but it was already the second time on this day that Simpson had been recognized while going about his business. And that's been happening more and more to the 35-year-old New York native turned Las Vegas poker pro. As a central figure in the Global Poker Awards winning Only Friends podcast, Simpson's incredibly affable personality, open-book attitude, and memorable, infectious laugh have endeared him to thousands of poker-playing fans helping his public profile take a sharp upswing.
"Do you know how many people say 'Let's Get It Poppin!' to me?" Simpson says, his trademark laugh in tow. "It's kind of great. I like it. It shows that people watch our podcasts and my personality is not hated."
Having a catchphrase shouted back to him…hell, being recognized by strangers at all…may have seemed unfathomable just one year ago. But the Only Friends podcast, a daily round-table discussion of all things poker, sports, and whatever other topics are in the current zeitgeist, recently eclipsed more than 200 episodes after a full year of nearly daily production – and that's a lot of impressions.
Simpson is part of a tight-knit crew on the show that includes frontman Matt Berkey, Melissa Schubert, Landon Tice, and Brian 'The Tortoise' Lamanna. Even with so many people involved, bringing daily content, from hot-button industry topics to poker strategy, can be quite the workload. But Simpson, who finds himself anchoring the show at times when Berkey is unavailable, doesn't quite see it that way.
"When you enjoy something that you're doing, it doesn't feel like that much of a grind. When you play so much poker, when you do the podcast every day…it just feels like, hey, I'm going to go have some fun right now. I love this stuff," he said. "The podcast is just something we kind of just rolled into somehow. We just took our living room conversations and for some reason, we brought them in front of a YouTube crowd, and, thanks to some things that happened in poker, it just caught a lot of traction and it just feels like it's fun. It's just a lot of fun."
You can hear it in his voice, it's not lip service – Simpson is genuinely grateful for this ride. A former home game dealer from his time in New York/New Jersey, Simpson found himself helping out in years past by dealing for Berkey's Solve For Why training content (like Poker Out Loud.) But when the podcast came about, Simpson moved from out of the box to in front of the cameras.
"It was kind of cool because, I don't know, I feel like I've always had a personality that can't be held down for too long, and given the opportunity, it will shine. So the podcast was kind of the best thing for me in this type of regard."
Growing up on the East Coast, Simpson kind of stumbled into the "hamster wheel" of poker in his twenties. There was no single moment that helped define his rise to a poker pro. As he recalls it, he first started playing small-stakes tournaments and cash games with friends and ended up becoming a reliable dealer in private low-stakes home games. It was a part of his life for about seven years when everything changed.
Simpson's mother passed away when he was just 27. His little brother was only 11.
"I stopped dealing and playing and everything like that," he said. "We [Simpson and his brother] lived together and I raised him as big brother, dad, mother, cousin, uncle…for three years.
"It was difficult just from an emotional standpoint, but [ultimately] it was great for me. It helped me grow up a lot."
Simpson looks back on that time in his life as bitter-sweet, there was the emotional toll of losing his mother, but the years caring for his brother helped set him up to work on himself. It's time he says he "wouldn't trade for anything." But after three years of just the two of them, his brother was set to move to live with his aunt and uncle and go to school in North Carolina and Simpson found himself in an entirely new situation.
"I had no more responsibilities," he said. "So I moved to Vegas. I randomly packed three bags and just YOLO'd to Vegas."
He didn't have a plan, and, according to him, no real direction for what he wanted to do. At the same time, Simpson's friend from New Jersey, poker pro Christian Soto, was in the process of also moving to Las Vegas and Soto had a spot for Simpson to land when he got to town. Ultimately, that was with the Solve For Why crew.
"It kind of felt like a seed that was just able to grow from there."
It's five years later and today Simpson is focused. He's chasing his poker dream. Waking each day, checking Poker Atlas, grabbing that coffee, and finding a tournament to try and spin it up in. He's put cash games, outside of the occasional livestreamed game, on the back burner while grinding the best MTTs Las Vegas has to offer.
"I like the survival aspect part about tournaments," he said.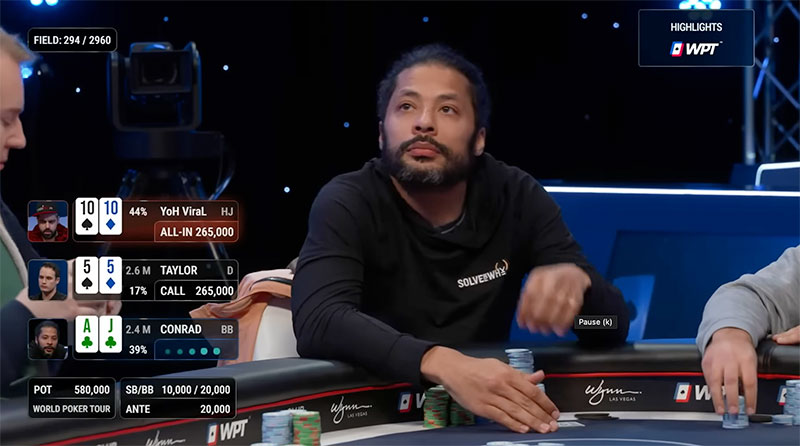 Along with love from the poker community, Simpson's poker results have grown over the past year or so as well. On the surface, it's been a good couple of years. Back-to-back cashes in the WSOP Main Event, a six-figure final table score at the 2021 series, and a deep run in the WPT World Championship at Wynn Las Vegas Main Event. In total, Simpson is closing in on $500,000 in career earnings.
"It kind of just happened to be a good year for me I think. Actually, I really just started playing tournaments a couple years ago during the beginning of the pandemic. So live tournaments were a whole new ball game to me," he said. "And honestly, to be fair, I don't even know if I had that good of a year. I put in a lot of volume, I played a lot of buy-ins, and I kind of got wrecked this past summer (2022) at the WSOP. I went for 2-for-73. But it's part of the life. Sometimes you're just going to have big scores. Sometimes you just go through the trials and tribulations."
But Simpson insists those trials and tribulations in poker can't keep him down for long. The positivity he projects on the podcast is "as authentic as you get" and even when the downswings come – like the aforementioned 2-for-73 summer -Simpson has the experience that allows him to move forward.
"I have an extremely positive attitude because the worst already happened to me in my life from what I can see. My best friend passed away when my mom passed away. I was pretty positive before that, but I realized there's nothing in this life, there's no reason to be upset…life's good. No matter what, life is okay. What is there to be upset about? We're playing tournaments all the time. We're playing poker. I kind of always wanted to be in a spot like this when I looked at poker and I'm here, so why would I ever be upset?"
The summer is creeping closer and Simpson says he sees no reason he won't have a full schedule of non-stop tournament action at the WSOP and the packed events of the surrounding properties. With Only Friends marching on, Simpson's immediate future looks as action-packed as his present and it's, not in some small part, thanks to the community that he continues to enjoy this chapter in his life.
"I get so much love in my DMs and on Twitter and stuff like that and I love this energy. It's really cool that other people are following along and when they are watching, they show love," he said. "At this point, I think I just want my personality to be out there in some way, shape, or form. I love the game of poker and I'm not going anywhere. I study this game, I play this game, and my personality goes hand in hand with it.
"Like I said, I love this game. There are not many people that love this game more than me and I want to do my best to figure out what my best is."
Let's Get It Poppin' indeed.